John McBride, Network Director

The WLUJ Family of Stations (Springfield, IL), WLLM/WTSG (Lincoln, IL), and Good News Radio (Carthage, IL)
John McBride came to WLUJ in June of 1999 to be the Station Manager. Prior to that John managed Radio Station KICY in Nome, Alaska for more than ten years, a mission radio station started in 1960 by the Evangelical Covenant Church. John also became the KMDY Station Manager in 2011.
John attended John Brown University with a major in Music Education, but also worked summers and holidays at the school radio station. John has served as an area director for Child Evangelism Fellowship and also as Christian Education Director for a ministry to Navajo Indians at a mission started by his parents. He also worked as a public school music teacher, and as a store manager for Radio Shack.
John believes in the importance "Lifting Up Jesus" through the medium of radio, allowing people to hear the "Good News" proclaimed wherever they live or travel in Central through the WLUJ Family of Stations, and Western Illinois/Northwest Missouri/Southeast Iowa through Good News Radio, and around the world through live streaming on the internet.
John and his wife Sherri live in Joplin, MO and have three children and seven grand children.
Joey Krol, Manager
Joey serves as WLUJ's Manager. Joey has a heart for ministry and especially loves Christian Radio and teaching God's Word. He has served in Christian radio for several years including The Great News Radio network in Champaign and WIBI in Carlinville. Joey has also served as an Associate Pastor and a Christian Counselor. One of his favorite hobbies is clipping coupons. Joey's education includes a graduate degree from Colorado Theological Seminary. He lives in Springfield with his wife Aubrey and two kids. Joey's E-Mail address is:Joey@wluj.org.
John Swinford, Operations Manager

John joined the WLUJ family in October 2017 to serve as the Operations Manager and brings experience in Leadership, Management and Ministry. His education includes a Graduate Degree in Public Administration from the University of Illinois at Springfield, and a Graduate Degree in General Ministry from Lincoln Christian Seminary.
John retired from the Marine Corps in 2001 and is now an ordained minister and Pastor of a local church and has served as a church elder for many years. John serves on the Board of Directors for Relevent Practical Ministry for Men and as the Event Coordinator for the Iron Sharpens Iron Men's Equipping Conference in Springfield. John and his wife Cari, live in Williamsville and have been blessed with two beautiful daughters who are married and have blessed John and Cari with two wonderful grandsons and a beautiful granddaughter, all of whom live in the immediate area. John can be reached by e-mail at jswinford@wluj.org,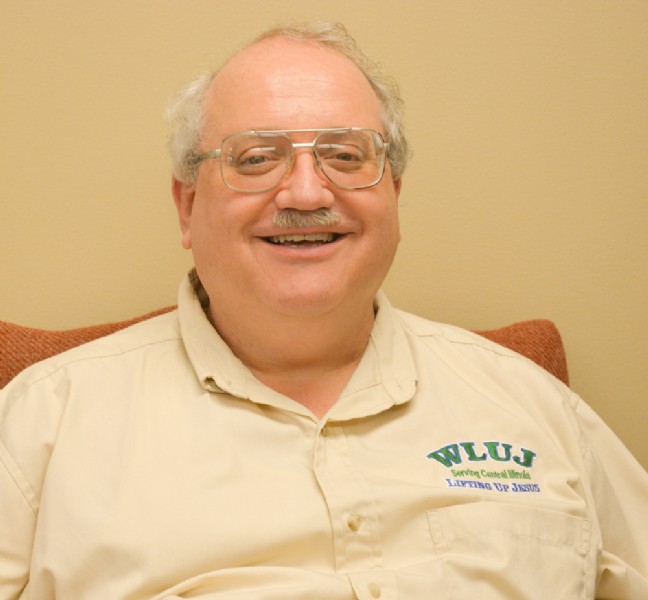 Howard Fouks, Chief Engineer
Howard Fouks has been Chief Engineer since 2001. He has also served as Operations Manager from 1999 to 2009 and Station Manager from 1987 to 1999. Prior to his arrival in Central Illinois, Howard served as announcer and engineer at WGMO in Shell Lake Wisconsin. Also he received on-air training at the old WGNR in Grand Rapids, Michigan.
Having served now at WLUJ since 1987, Howard says, "I have witnessed much change here at WLUJ, in my life and in our country. But God does not change and He is available to help us through our changing world with His daily grace! I like the verses in Hebrews chapter 4:14-16 that reminds us to come before our high priest Jesus Christ with confidence when we are weak and tempted to receive mercy and find grace to help us in our times of need. Jesus is there to provide the daily grace we all need as we approach Him in prayer. When we appropriate His wonderful grace it keeps us serving Him with glad hearts and a desire to proclaim His glory".

Howard's education includes Biblical studies and broadcasting, as he studied at the Grand Rapids School of the Bible and Music and received a degree in Christian Broadcasting.

Howard and his wife Susie reside in Springfield.
Lonnie Lein, Production Manager
Lonnie Lein joined the WLUJ staff in 2001. He is a Southern California native who grew up in the small mountain town of Idyllwild, and he fell in love with tape recorders and sound recording when he was in 8th Grade. He holds an AA in Electronics Technology from College of the Desert in Palm Desert, California and a BS in Broadcasting from John Brown University in Siloam Springs, Arkansas. He spent the summer of 1979 as a volunteer at TGNA, a Christian station in Guatemala City.
Lonnie worked as a recording engineer, writer, sound editor and camera operator for Wycliffe Bible Translators for nine years before marrying and moving to Knoxville, Tennessee. There he worked for Cedar Springs Presbyterian Church as an office purchaser, sound technician, and maintenance man.
Lonnie's duties at WLUJ include downloading radio programs, promos and public service announcements, preparing them for broadcast, programming the on-air computer for each broadcast day, and writing Community Calendars and other radio scripts.
His wife, Dr. Glenna Schroeder-Lein, has written a number of Civil War books, the latest being Lincoln and Medicine, and she works as a historian and manuscript researcher for the Lincoln Presidential Library and Museum. She also writes and records the short History of the Christian Church, heard three times on Sunday on WLUJ.
Richard Beaman, Senior Director of Underwriting
Richard Beaman has been a part of the Springfield area's Christian radio ministry for 20 years. After graduating from Ball State University in Muncie, Indiana in 1960, Rich went to work for a Kokomo, Indiana company called Continental Steel Corp. On the road as a traveling salesman he got much of his Christian encouragement by tuning to Christian radio stations wherever he could find one. Presented with a need and realizing the value of Christian radio's ministry to people with jobs such as his, Rich enthusiastically accepted a position on Lincolnland Christian Radio Ministries Board, the fundraising arm for WLUJ in the early days.
For several years, Rich was also a part of WLGM which broadcast a mix of traditional Christian Inspirational and Southern Gospel music. Rich has worn many different hats while serving with Springfield's Christian radio stations over the years, and he's counted it a real blessing to watch the work grow, adapt and become an integral part of the Lord's ministry here in the Springfield and surrounding areas.
As WLUJ's Director of Underwriting, Rich enjoys working with the local businessmen and women in our area who support the station's ministry by underwriting a portion of the cost of daily broadcasting.
Rich also currently serves as Vice President of Broadcasting on the board of directors for Cornerstone Community Radio,Inc." which is the parent company of WLUJ.
Rich and his wife Lydia live in Springfield. They attend Berean Baptist Church where Rich serves on its board of deacons. Lydia recently retired from the Berean Baptist Academy where she served for 25 years. They raised three children in the Springfield area, and their children have each married wonderful Christian spouses who have given them seven fantastic grandchildren. Rich gratefully exclaims, "The Lord is good!
Charlie Fulk, Finance
Charlie came to WLUJ with experience as both an accountant and a pastor. He worked as an accountant for almost 40 years before feeling God's call and has served as a pastor for the last 7 years. Although he felt led to retire from the pastorate he also felt God wanted him to continue serving the Lord in some way. Charlie found that "some way" in his present position at WLUJ where he can use his background to continue to support a ministry that is "Lifting Up Jesus" everyday. As I Corinthians 15:58 says, "Therefore…be steadfast, immovable, always abounding in the work of the Lord…"
Charlie has degrees from the University of Illinois and the Moody Bible Institute. He and his wife live in Farmersville, IL and have 6 children, 20 grandchildren and 4 great grandchildren.
Liz Eilers-Bron, Underwriting Director
Liz Eilers-Bron brings her experience as Underwriting Director from other Christian radio stations where she held the same position.

A native from Central Illinois, Liz is active in conservative politics on a local and statewide level, as well as at Hope Church and mission groups.

Elected to Precinct Committeeman now for a third term, Liz has a passion for good government. She has served on the steering committee of the Illinois Center Right Coalition, on the Board of Directors of Springfield Right to Life, and does public speaking/writing on the "Socio-economic Impact of Abortion in America".
Liz has served on a number of campaigns for conservative leaders seeking office. Among them; Field Director for Jim Oberweis for US Senate, Jim Oberweis and Adam Andrzejewski for Governor, Field Directors for Congressman Schilling, and Senator McCann, IL State Director for Herman Cain for President, and other campaigns.

Missions are another passion of Liz's. Serving yearly as MC for the for Ghana Hospital Mission IHDN Banquet and having served on a short term mission to Haiti herself, Liz has a heart of compassion for those whom God calls "The least of these."

Liz raised 2 great kids (with God's grace) and now has two grandchildren whom Liz claims are the cutest kids in the world. Liz's phone number is 217-725-8993. Liz's email address is liz@wluj.org.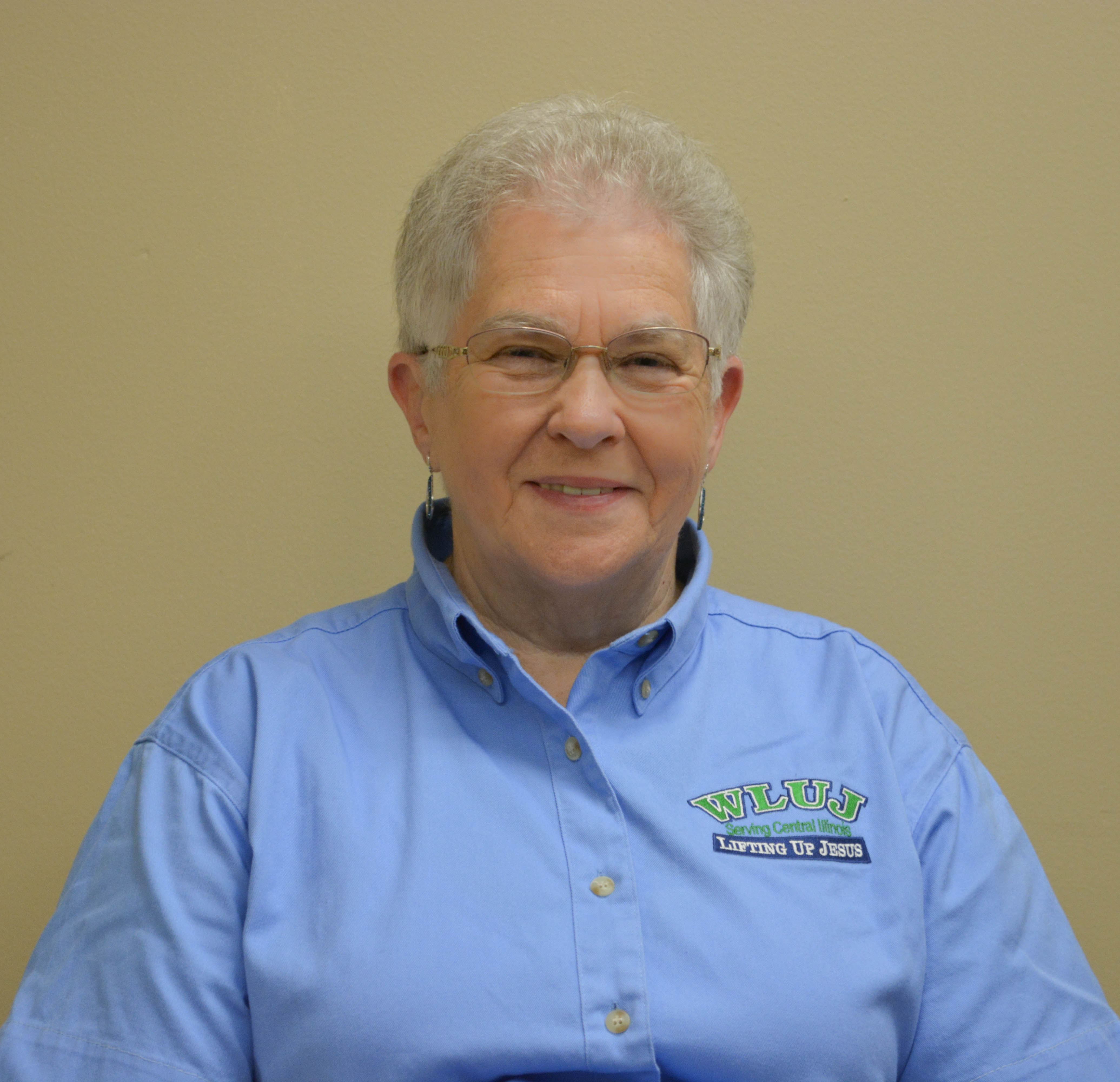 Joyce Mancke, Office Manager
Joyce joined WLUJ Radio in 2015 as Office Manager. She brings with her many years of office work experience from serving as a Bank Officer for 15
years to managing an Insurance Agency for 20 years. She has also served as Secretary, Treasurer and Sunday School teacher in the church she
attended and started a "Kings Kids" Youth program for the children.
Joyce organized and is director of a Nursing Home/Seniors Ministry that started in 2005 and currently holds "Praise and Worship" services in 18 homes
across Illinois and in 8 different cities. She also leads a weekly "Women" Bible Study group. I am thrilled to be a part of WLUJ, Lifting Up Jesus. "I love the Lord with all my heart, soul and mind and have found that His Grace is sufficient for every need, both small and great and His love is everlasting".
Joyce and her husband, Verlin, live in Pawnee. They have 3 daughters and 11 grandchildren and one great-granddaughter, all who faithfully serve the Lord.